Description
Baja™ Wrangler® 2 Outdoor Mobility Scooter Unlocks Adventure!
The Baja™ Wrangler® 2 outdoor mobility scooter, the first in Pride's new Baja™ Mobility outdoor lineup, brings unprecedented capabilities to the outdoor personal mobility vehicle class. It's built for utility, durability and your greatest adventures.
The Baja Wrangler 2 is the trusty trail navigator of mobility equipment.
It's the faithful ranch hand, the plot gardener's assistant.
It's ready to go when you are, with power and maneuverability on demand.
Power on demand
Powered by dual 24-volt/120-amp motors, the 14.5-inch tubeless pneumatic tires crush it on root-strewn paths, gravel and sandy surfaces. Meanwhile a rugged suspension system, steering stabilizer and standard pillow-top seat cover provide all-day comfort for the long haul. If you like to spend every possible minute out in the open air, trust us —this is the outdoor mobility scooter you've been waiting for.
We built the Baja Wrangler 2 mobility scooter for the conscious landowner and consummate explorer.
Rule your kingdom with unfettered access to every corner of it. Baja Wrangler 2 makes daily chores happen with efficiency. When the work is done, it's time to kick back. Start a new adventure exploring some place you couldn't reach before.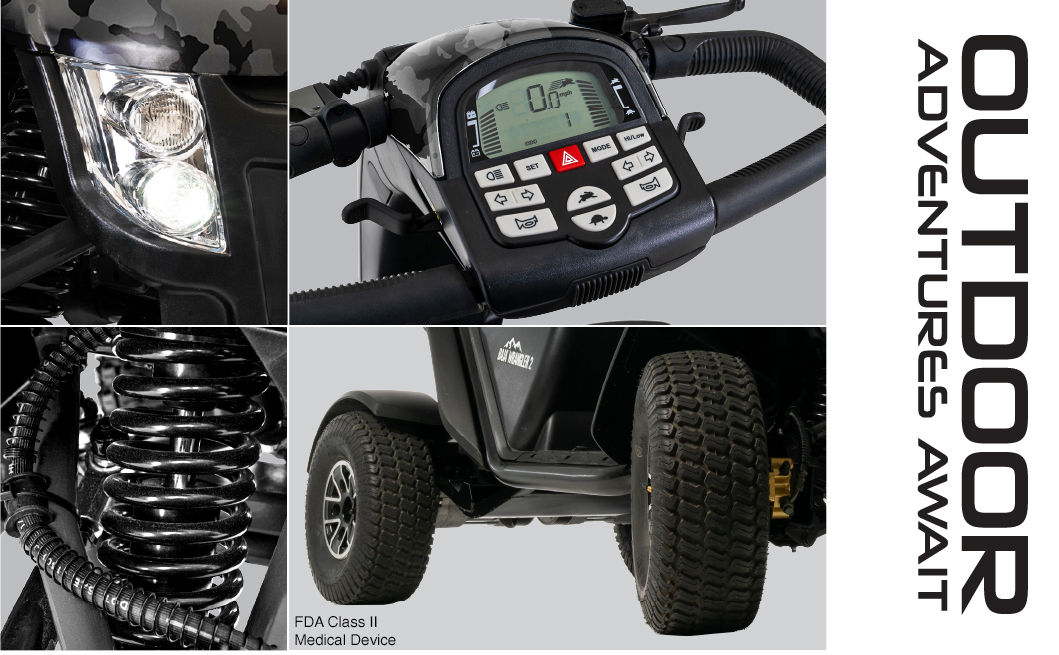 Safety and comfort open new paths for the mobility scooter class
Baja Wrangler 2 brings stunning safety and comfort features to the mobility scooter market. These extras make it feel more like an all-terrain vehicle than a mobility scooter.
It's got a backup sensor and rear LED backup lights, adding visibility to your blind spot and confidence to your ride.
Does your adventure ever take you into urban settings? We thought of that, too. A robust delta tiller control console gives you turn signals with buttons at both right- and left-hand positions. There's a hazard light button and a horn. With responsive and ergonomic throttle controls, again in the left- and right-hand positions, you, the rider, have even greater control.
The tiller display shows you the typical data readout like battery and speed but includes a clock and temperature gauge, so you can track the time and weather changes at a glance.
Your Pride Mobility dealer has your keys to adventure
It feels like we just scratched the surface here. We didn't even touch on the fully-adjustable seat and backrest, the adjustable tiller, LED headlights and onboard charging capabilities. Obviously, the Baja Wrangler 2 offers so much to your outdoor riding experience.
Your local Pride Mobility provider will help you learn more about this powerful outdoor mobility scooter. Schedule a test ride, arrange for financing and schedule delivery all in one place.
How to buy the Wrangler 2 outdoor mobility scooter
The Baja Wrangler 2 is not a medical device. Private financing options are available. Contact your local Pride Mobility provider or call Pride at 800-800-4258 to discover how you can experience more of your world with the Baja Wrangler 2 outdoor mobility scooter
Baja Wrangler® 2 Features:
450 lbs. weight capacity
Up to 11.4 mph at 200 lbs.
94.75" turning radius
Up to 17.4 miles at 450 lbs.; Up to 26.6. miles at 200 lbs. with optional 100 AH batteries
Hydraulic hand brake with standard regenerative and electro-mechanical braking system
Choice of 16"x16-18" or 18"x18-20" black vinyl, limited recline memory foam seat with manual adjustment, heavy-duty seat post, sliders and height, width, depth, and angle adjustable armrests and 60" lap belt
Optional Seating: 20" x 18-20" and 22" x 20-22" black vinyl, limited recline memory foam seat
7.7 Peak HP dual motors
Storage Compartment
CTS Suspension includes features industry-leading suspension for a much smoother ride
Steering dampening system absorbs uncontrolled movement over rugged terrain designed to reduce fatigue by reducing the energy needed to control the handlebars.
User friendly LED console displays time, temperature, miles driven, and trips taken
Adjustable delta tiller with ergonomic, wraparound handles
USB charger built into the tiller for convenient charging of smart phones and portable devices
Durable and stylish rear bumper
Easy battery installation
Dual-coated frame
Easily accessible tie-down points (for transport of unoccupied scooter)
Full LED lighting package includes headlights, hazard lights, and directional signals
Rear backup sensor LED lights indicates when you are too close to an object when in reverse
Baja™ Wrangler® 2 Specifications
CATEGORY
SPECIFICATION
Model

Baja™ Wrangler® 2

Model Number

BA400

Maximum Speed

Up to 11 mph at 450 lbs.;
Up to 11.4 mph at 200 lbs.

Range Per Charge

Up to 13.2 miles at 450 lbs. (75AH);
Up to 20.2 miles at 200 lbs. (75AH);
Up to 17.4 miles at 450 lbs. (100 AH);
Up to 26.6 miles at 200 lbs. (100AH)

Suspension

Front and rear (CTS Suspension)

Weight Capacity

Up to 450 lbs.

Highest Ground Clearance

8.25" at mid-frame

Lowest Ground Clearance

5.5" at motor

Turning Radius (4-Wheel)

94.75"

Overall Length

61.25"

Overall Width

32.5"

Standard Seating

Type: Limited Recline
Memory Foam Seat with Sliders

Seat-to-Ground Height

29"-30.5"

Seat-to-Deck Height

20.5"-22"

Front Tires

14.5" Tubeless

Rear Tires

14.5" Tubeless

Battery Requirements

Type: (2) 75AH; (2) optional 100 AH
Weight: 75AH- 48 lbs.; 100 AH- 60.5 lbs.
Battery Charger: Off-board, 8 amp

Total Weight Without Batteries

274 lbs.

Heaviest Piece when Disassembled

219 lbs. (unit does not disassemble) without seat and batteries

Total Product Weight (Standard)

370 lbs. (75 AH); 395 lbs. (100 AH)

Drive System

24- volt DC motor, rear-wheel drive, dual in-line

Braking System

Regenerative and electromechanical

Medicare HCPCS

**Non-Medical Device The intended use of this product is to provide assistance to persons with limited mobility who have the capacity to operate a motorized scooter

Warranty

Frame: Lifetime limited
Drivetrain: 2-year limited
Electronics: 2-year limited
Battery: 6-months
Baja™ Wrangler® 2 Testing Standards & Warranty
Meeting and Exceeding High Standards for your Peace of Mind.
Your Pride product has undergone thorough product testing to ensure safety, durability and performance.
Our power chairs, scooters and lift chairs are Food & Drug Administration (FDA) approved medical products that require specific testing prior to release for public use.
The testing requirements accepted by the FDA were developed by the American National Standards Institute/Rehabilitation Engineering & Assistive Technology Society of North America (ANSI/RESNA).
The tests are conducted in accordance with the requirements of the ANSI/RESNA Test Standards and complement an additional stringent testing regiment developed by Pride's Research & Development Team.
All products have passed, and in many cases, exceeded test criteria set forth, assuring the high level of quality synonymous with Pride.
Some of the items our testing criteria include are:
Product Stability & Brakes Effectiveness Tests
Fatigue & Impact Strength Verification Tests
Overall Product Performance Verification
Dimensional Requirement Compliance
Product Durability & Reliability Testing
Material Protective Coating Testing Verification
Misuse and Abuse Testing
Ergonomic Verification
Environmental Testing for Adverse Weather Operation Conditions
Electronic Systems Performance and Durability
Chemical and Bio-Contamination Analysis Testing for Toxicity Verification
Cal 117 Flammability Test Compliance for Seating Foam and Fabric Components
UL94VO Flammability Testing for Compliance of Plastic Components
Electromagnetic Compatibility (EMC)
---
Warranty
Lifetime limited warranty on frame
2-year limited warranty on electronics
2-year limited warranty on drivetrain
Baja™ Wrangler® 2 Manuals
Brochures
Owner's Guides
Reviews (0)
Write a Review
Write a Review
Pride Mobility
BAJA™ Wrangler 2, Pride Mobility
No review here!